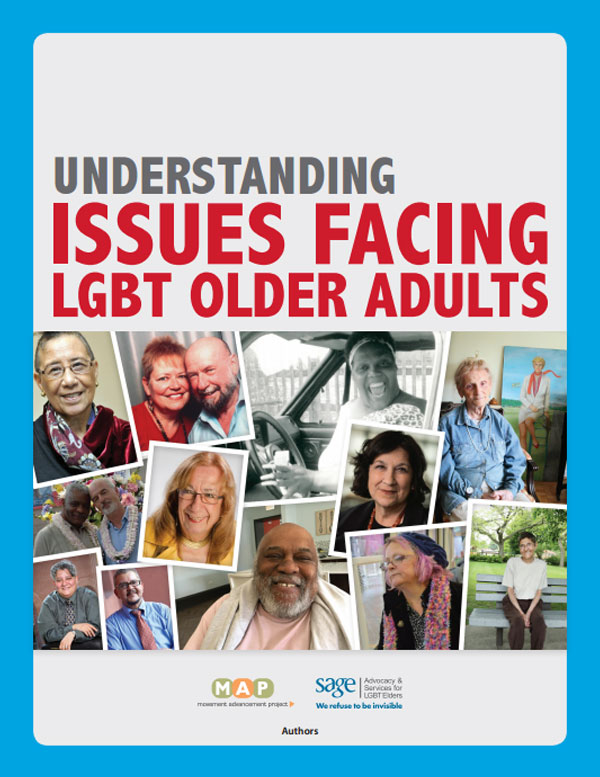 Although largely invisible until very recently, LGBT older adults make up a significant (and growing) share of both the overall LGBT population and the larger 65+ population. While confronted with the same challenges that face all people as they age, LGBT elders also face an array of unique barriers and inequalities that can stand in the way of a healthy and rewarding later life.
What unique barriers do LGBT elders face? One is the effect of social stigma, past and present. This stigma has disrupted the lives of LGBT older adults, making it harder for them to earn a living, save for retirement, be fully accepted in their communities and families, and access needed services. LGBT older adults are more likely to be single, childless and estranged from their biological families, and are therefore are more likely to rely on friends and community members as their chosen family. However, official policies and laws often do not recognize these non-traditional caregivers. Last but not least is the barrier created by unequal treatment under laws, programs and services designed to provide a safety net for older Americans; all too often, the safety net doesn't provide equal protections for LGBT older adults.
These and other barriers make it harder for LGBT elders to achieve three key elements of successful aging: financial security, good health and healthcare, and social support and community engagement. MAP explores the lives of LGBT older adults, the added challenges they face, and what can be done to improve their lives.